USB flash drives and SD cards have taken their place in our lives and are actively used in a wide variety of devices. Phones, tablets, e-books, cameras, audio and video equipment. But sometimes files are not deleted from the flash drive. So how to delete files off a flash drive on a mac?
If you have recently switched to Mac OS, then it may come as a surprise to you that when you delete data from a connected flash drive, the memory on the portable storage device is not added and files from the flash drive are not deleted.
For example, let's say you downloaded a file to a USB flash drive. We see objects below the inscription (2); 984,2 MB available.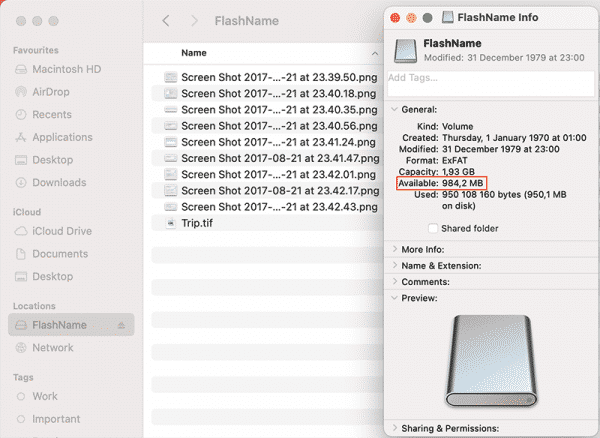 Now let's delete the contents of the flash drive (just select the data and delete it in the most usual way, with the CMD + Delete keyboard shortcut ). But, look how much available space is left now – 984,2 MB.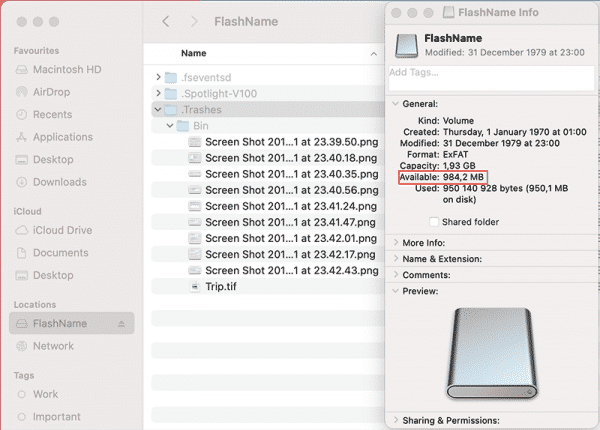 This is because when you delete files from the flash drive, your Mac does not completely delete them. A folder on the drive with the name .Trashes is automatically created and the erased information is moved to it. This has its advantages – you can easily recover an accidentally erased file.
We already talked about how to display hidden files and folders on Mac, let's see the hidden files of our flash drive. Just being in the folder, press Shift + CMD +. (point).  If the keyboard shortcut is correct, you should see something like the following.
If you try to delete the .Trashes folder, you will receive this error notification.
Do not be upset, because you can always format the drive or come up with a faster method. It consists in emptying the basket. Simply, when the flash drive is connected to your computer, empty the trash in your Mac and the data erased from the USB drive or SD card is deleted permanently.
Immediate deletion of files from the USB stick
There is another way to delete files from a USB flash drive, which is faster and does not require additional emptying of the trash can.
You just need to select the file to be erased and press the ALT + CMD + Delete key combination. A window will appear in which you need to confirm the action. We confirm and as a result of the procedure – we get a clean and ready to write new data portable storage device.