So how do you format a USB flash drive on a Mac? It would seem that formatting a flash drive is one of the easiest processes in working with a computer. Windows users know that to completely erase data from a USB flash drive, SD card or hard drive, just right-click on the corresponding icon in the explorer and select "format" in the appeared context menu, and then confirm the operation.
In Mac OS, things are a little different, and if you have recently switched to this operating system, then the step of clearing unnecessary information can seem daunting. In this article, we'll show you how to quickly and easily do this on your MacBook, iMac, or Mac Mini.
Detailed step by step instructions:
How to format a USB flash drive on a Mac?
We connect the USB flash drive to the device. In our particular case, using a 2018 Macbook Pro, there is no USB port. Therefore, we will use the hub from Grand X (do not take it for advertising).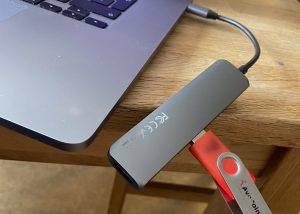 In Finder we see the contents of our flash drive. Please note that the screenshot below shows hidden files and folders (slightly overexposed). By default, in Mac OS they are hidden, but displaying them is quite simple, read our article.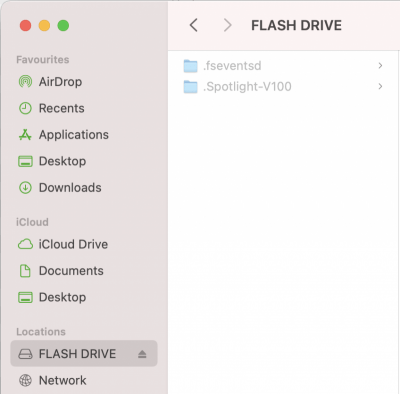 You can make sure, if you haven't tried it yet, that there is no "format" option in the context menu, as in Windows.


Now, let's get down to the basics – formatting. This can be done in several ways, let's start with the simplest one – disk utility.

Disk Utility is a built-in Mac OS application that allows you to manage hard drives, USB flash drives, SD cards. It can also be used to erase data.

There are two ways to launch Disk Utility: Open Launchpad (most often located in the Dock).


If Launchpad was not found either there or there, you can call it with gestures – the thumb from below and the index, middle, ring from the top are pulled to the center of the trackpad.

In the window that opens, there is the "Others" folder, where the disk utility is actually located.


The second way to launch disk utility is many times easier – call Spotlight with the CMD + Space key combination . In the field that appears, start typing "disk utility".

Great, we figured out how to run the disk utility, let's see how it looks from the inside.

On the left is a list of connected storage devices, including your flash drive, like ours.

To format, you must select the desired device and then click "Erase" in the top panel .

A window will appear where you can specify the name of the drive and select the format.

In what format should I format my USB flash drive?

There are four formats available in Disk Utility: ExFAT, Mac OS Extended, MS-DOS (FAT). Let's figure out what each of them is for.

ExFAT. Most often used for USB flash drives and SD cards. Older versions of Windows, up to Windows Vista, do not support this format. If you need to write data that will need to be read and rewritten in the future on Windows, Linux, Mac OS, then select this format when formatting.

Mac OS Extended. Windows does not recognize this format, designed specifically for Apple devices. It is not suitable for flash drives.

MS-DOS (FAT). This is an old format introduced by Microsoft back in 1983. Most of the flash drives work with this format, and FAT is also the standard format for hard drives on which Windows is installed. Supported: Linux, Mac OS, systems running various digital equipment, phones. The format has a limitation on recording – up to 32 Gigabytes, so it will not work for recording a high-quality series.

We'll choose ExFAT. We press "Erase" and upon successful formatting we will receive the following notification.

That's all, the flash drive is empty. Now you can write any data to it and use it on other devices.It happens that the disk utility does not format the USB flash drive. In this case, instead of successfully completing the formatting, you will receive a message stating that the formatting could not be completed.


What to do if Disk Utility won't format

Don't worry, just follow our further instructions and you will succeed. We will show you how to format a USB flash drive on a Mac using the terminal.

First, let's see what identifier our flash drive has inside the system. Open a terminal and issue the following command: diskutil list . The answer will be something like this code.

See, in the list of available disks, there is one where SIZE is 4.0 GB? – this is our flash drive. To the left we see the path / dev / disk2. So disk2 is the identifier.

To delete all data, write the following command: diskutil eraseDisk ExFAT ExtUSB disk2
Now the formatting of the flash disk starts


Let's analyze the construction.

ExFAT is a required file system format.

ExtUSB is the name for the drive.

disk2 is the identifier mentioned in the first paragraph.


That's all! As you can see, everything is simple and fast.