Learn how to free up hard drive space on your Mac or MacBook. These tips and tricks will help you get more free storage on macOS so you don't have to buy an external hard drive or delete files.
In the days of hard drives, we all had a lot of space on our Macs, but SSDs often have more limited capacity, and high-definition videos and other "important" files take up more space than ever.
Running out of space can really hinder your computing: if you want your Mac to run smoothly, you need to make sure you always have something like 10 percent of your storage. So, in this article, we'll walk you through the simple steps to help you free up space on your Mac.
How to manage storage using macOS
Back in 2016, with the launch of macOS Sierra, Apple introduced a new Optimized Storage feature that helps you delete old files or move things you don't need on your Mac to the cloud. This feature is still available, although changes in High Sierra and Mojave may have changed what you see there (for example, if you use iCloud to store desktop files and iCloud Photo Library for your photos, you won't see them here, but you you can see a huge chunk of "Other" or "System".
If you run out of storage, you will continue to see alerts with a link to storage settings where you can manage your storage. To access this section without this direct link, follow these steps:
Click the Apple logo in the upper left corner of the screen and choose About This Mac.
2. Then click the Storage tab. This will show you how much memory you have available and how it is being used. You will see a bar that indicates how much space is reserved for photos, system, apps, mail, and so on. This has changed slightly in later versions of macOS, because now there is a lot of content that can be stored in iCloud.
This is how it looked to us when we worked with Sierra. At that time, we had over 92 GB of photos on our 121 GB disk and 738 MB of scrapable material.

In Mojave, our photos are mostly in iCloud, like most of our files and everything on our desktop. As a result, the storage on our Mac is predominantly dedicated to apps (red, 16.61GB), photos (yellow, 5.17GB), iTunes (purple, 2.29GB), mail (dark blue, 1GB), and Music. Creation (light blue 1GB). ). The big chunk here is the 47.7GB system. Also, just over 15GB is set aside for the second volume, which we called Test (sort of a section where we run the beta software – this is how we created the partition / volume on our Mac).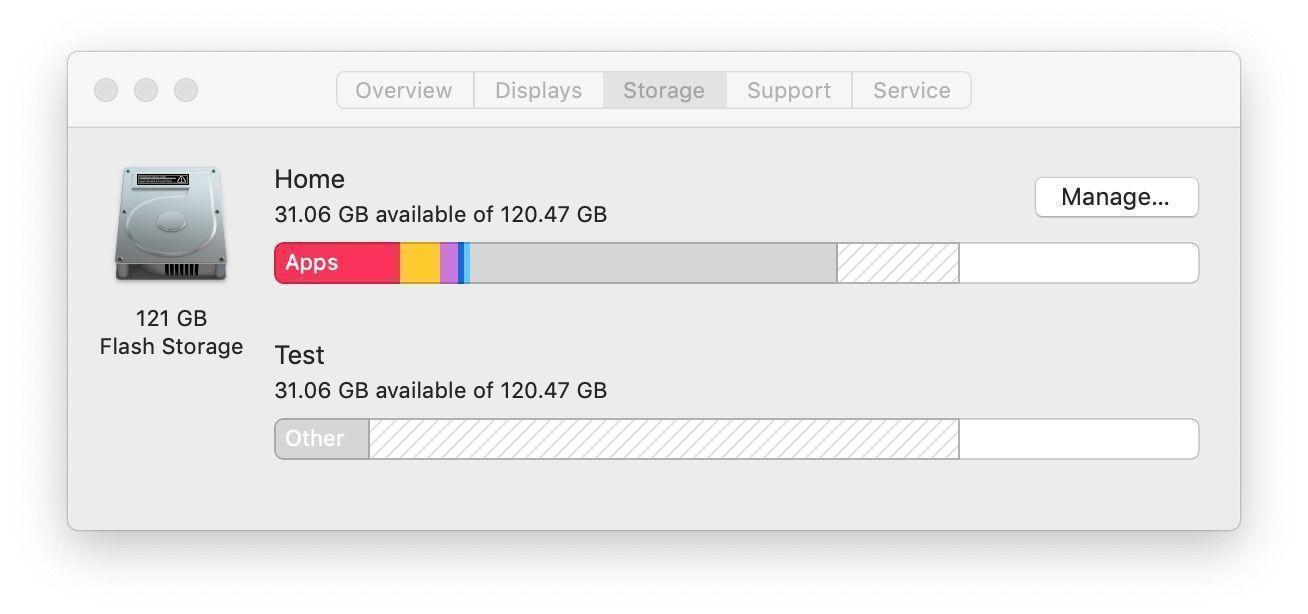 3. If you are using any version of macOS starting with Sierra (for example, 10.14, 10.13, or 10.12), click the Manage button. This will open another panel that will present you with four options: Store in iCloud, Optimize Storage, Empty Trash Automatically, and Reduce Clutter. You'll also see a series of tabs on the left side of the window for Apps, Documents, GarageBand, iCloud Drive, Mail, Photos, and Trash. This is what it looks like in Mojave: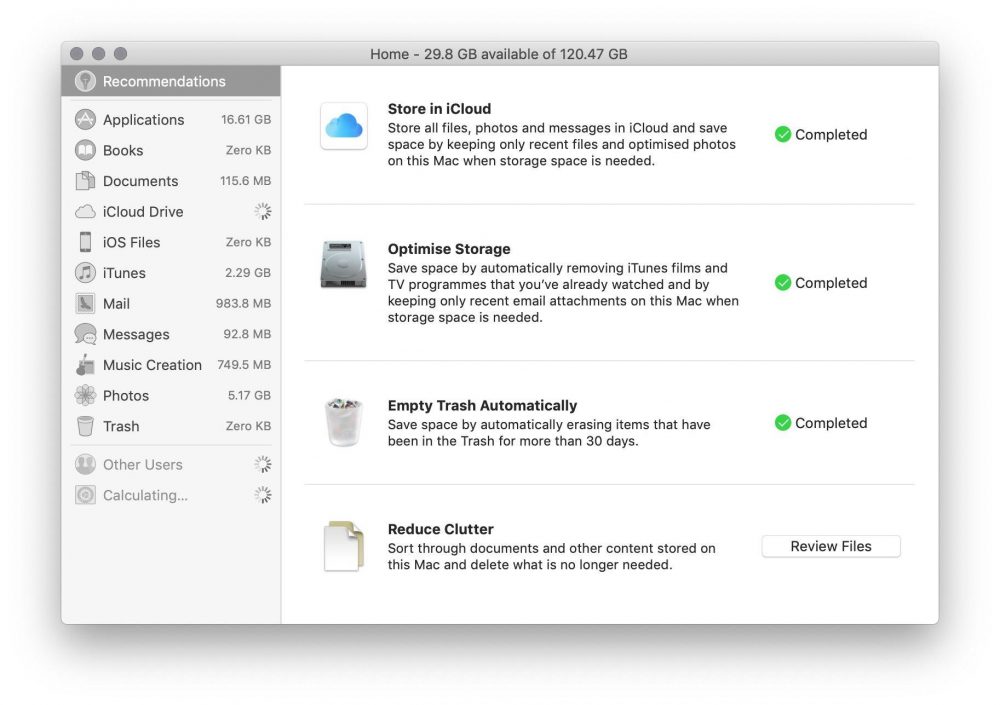 4. On a more populous Mac, you'll also see tabs for iOS files, which is helpful since if you're backing up your iPhone or iPad to your Mac (or you have in the past), you might find loads of iOS apps out of luck – neither one of which you need to keep, as you can easily download everything you previously paid for. IOS apps can take up a lot of space, so you can quickly reclaim storage space this way.
5. You will also see iTunes here, which will be filled with whatever music you store on your Mac – which can take up tons of GB unless you subscribe to Apple Music or iTunes Match to store your music in the cloud. This is how our system looked in Sierra before we saved the files to iCloud: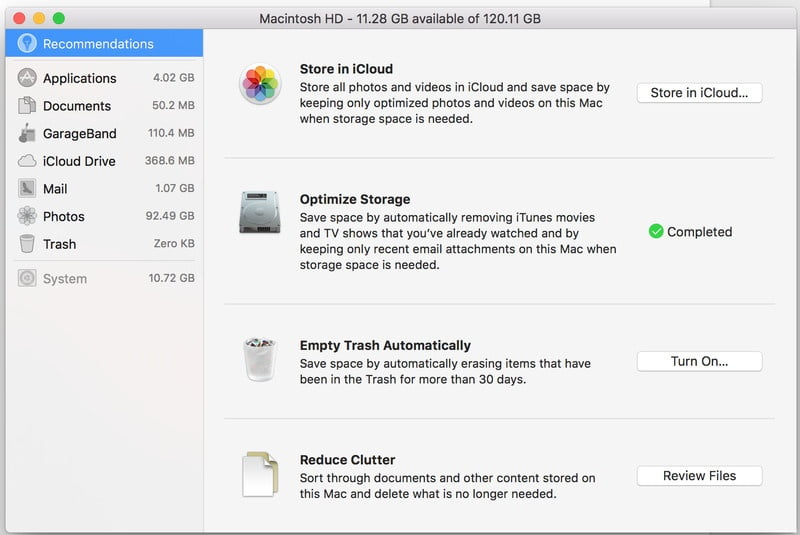 6. You can click on any of these options on the left to see more information about these file types. Go back to the Recommendations tab at the top of the list on the left and you will be taken back to the options.
We'll go over each step in turn.
Store in iCloud
The iCloud Store gives you the ability to store files in iCloud for a fee. Apple gives users 5GB of iCloud storage for free, but it won't help you here. About iCloud storage prices:
5 GB: Free
50 GB: 79p / 99 cents per month
200 GB: £ 2.49 / $ 2.99 per month
2 TB: £ 6.99 / $ 9.99 per month
Starting with macOS Siera, it became possible to share your desktop and documents in iCloud. This makes it easy to sync files across multiple Macs. Basically, you can take your desktop with you and access it on any of your Macs (and you can also access any file stored on it from your iPhone or iPad). Pages, numbers and other documents can also be saved in iCloud in folders associated with these applications.
There is very little data on a Mac these days, and a lot in iCloud.
Turn on Store in iCloud and it will start storing files, photos, and messages in iCloud.
Optimize storage automatically
This option will delete the movies you have watched; it will also remove old email attachments. You don't have to be afraid of losing any of these things, because emails will still be stored on the iCloud server, and the media you purchased from iTunes can always be downloaded again for free.
Empty trash automatically
Choose this option and macOS will empty the files from the Trash after they've been there for 30 days. Click "Enable …" and you will see a warning asking if you really want to delete the trash automatically. This should be pretty safe, since 30 days is a long time to realize that you didn't want to delete something, so we recommend that you click Enable.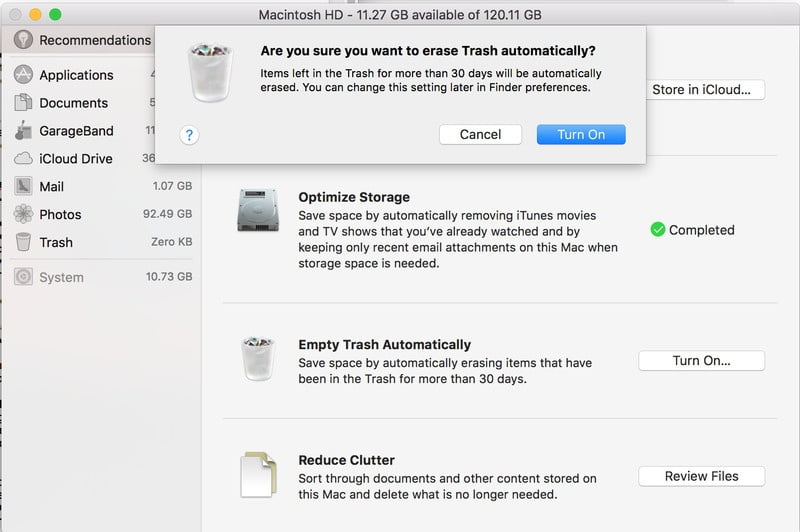 Reduce clutter
Clutter Reduction will check the contents of your Mac and delete old documents.
Click on Browse Files and you will be taken to a panel with large files, downloads, and file explorer. We don't have many files on our MacBook Pro because we store most of them in iCloud, but if we did, we could see the largest files on our Mac, including the last time they were accessed and their size. …
Click the magnifying glass icon to preview the file and click the X to delete it.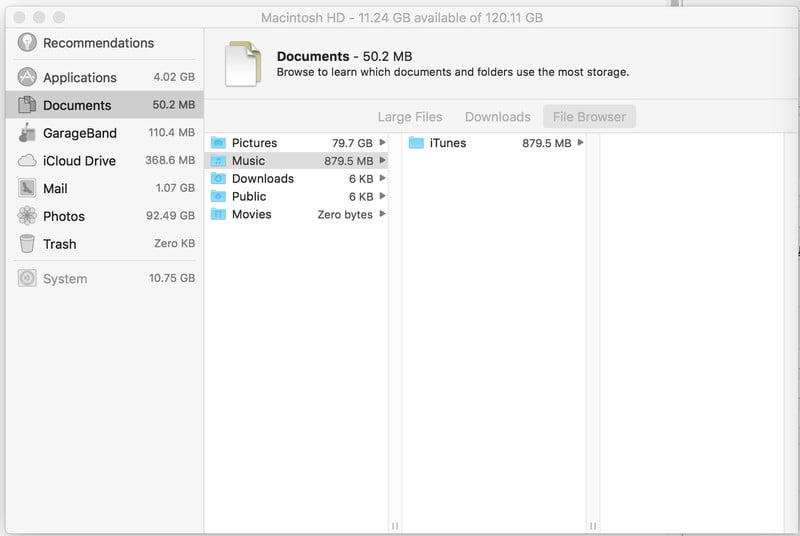 Other steps you can take to free up space on your Mac
These are the steps Apple is now suggesting to help you better manage your storage space. Probably the most important of these is the ability to store in the cloud the vast majority of things you once had on your Mac.
Use iCloud Photo Library
The advantage of using iCloud Photo Library is that any photos you upload to your Mac in the future will also appear on your other devices: iPhone, iPad, etc.
Considering that our Photo Library (before the inclusion of iCloud Photo Library) was 96 GB, we started by paying for 200 GB of space offered by Apple. After a few months, we increased the capacity to 2 TB, as all our documents, desktop, photos and more were stored in iCloud.
You could have turned on iCloud Photo Libary above, but if you haven't already, you can do it in the Photos app. Go to Photos> Settings.
Check the box next to iCloud Photos.
Select Optimize Mac Storage to make sure your full-resolution photos are replaced with low-resolution versions (you can always download the full-resolution version if you need it).
With this setting, your library should eventually shrink as high-res versions of images switch to low-res versions. But note that you will also get low-res versions of all the images you have on all your devices, so you may not be saving a lot of space.
Remember, storing photos and videos in iCloud doesn't mean they'll automatically disappear from your Mac.
Also, keep in mind that even if you are using iCloud Photo Library, if you delete photos from your Mac, they will be deleted from iCloud too, iCloud is not a way to back up your photos so that you can delete them from your Mac.
If you'd like to delete your photo library to free up space, check out our next suggestion.
Transfer photos to external storage
The best solution would be to free up space on your Mac by moving your photo library to an external hard drive.
To summarize, here's how to move your photo library to an external drive:
Exit Photos.
Copy your photo library to an external drive. (To avoid having to delete them again afterwards, press the Cmd key while dragging the files so that they are moved and the original files are automatically deleted instead of copied.)
After copying the files, hold down the Option / Alt key while launching the Photos app.
In Photos, choose Photos> Preferences, and generally choose Use as System Photo Library.
If you have iCloud Photo Library turned on, the Mac might be busy as it detects which photos are in iCloud, but it should eventually finish without requiring a bulk transfer.
Delete photo
If you don't have a free hard drive, you can simply crop your photo library.
If you're like us, you'll probably take a dozen photos for every photo you really want to put on an album or post to Facebook. From time to time it is worth spending some time deleting unnecessary unwanted pictures. If you haven't done this from time to time, taking some time now is probably a good idea, even if you're going to just copy your entire photo library to an external drive or start using the iCloud Photo Library (both of which are covered in detail above).
Here's another tip: if you've used a Mac for a while and at some point switched to the Photos app from iPhoto or Aperture (or both), you may find that files created by Aperture and iPhoto are still hidden. on your computer. Mac. Both of these applications stored their libraries in a single file located in the Images folder in your custom directory.
When you switch to Photos from Aperture or iPhoto, old library files remain in the Pictures folder, which means you now have a Photo Library and an Aperture or iPhoto Library. If you never plan on using Aperture or iPhoto again, you can get rid of their libraries, but we recommend that you archive them to an external hard drive just in case (note that there may be some confusion with your photo library in Photos and iPhoto. – applications access the same images, so your entire library is not duplicated, but there are related files that you no longer need).
Our Mac had a 6GB iPhoto file. Right click on it to "Show Package Contents" and remove the entire panel from the Masters file.
Crop iTunes
Your iTunes library can be another candidate for reclaiming disk space, especially if you spent a lot of time importing your CDs years ago. If your iTunes library contains multiple GBs of music, you have several options.
You can copy all of this from the Music directory to an external hard drive and tell iTunes in its preferences. This is great if your Mac is a desktop model, but not ideal if it's a laptop.
In this case, you can use a NAS device instead of an external hard drive so that you can access your music whenever you are connected to your local network.
Another option is to pay £ 21.99 per year to sign up for iTunes Match.
Once set up, iTunes Match lets you access all the music in your iTunes library on Apple servers, meaning you don't need to store it locally at all. You will need an internet connection to play music, but otherwise it is similar to using iTunes with locally stored music.
And, as a bonus, if you later decide to download your music from iTunes Match, you get 256-bit AAC files, which are likely to be of better quality than the ones you saved on your Mac.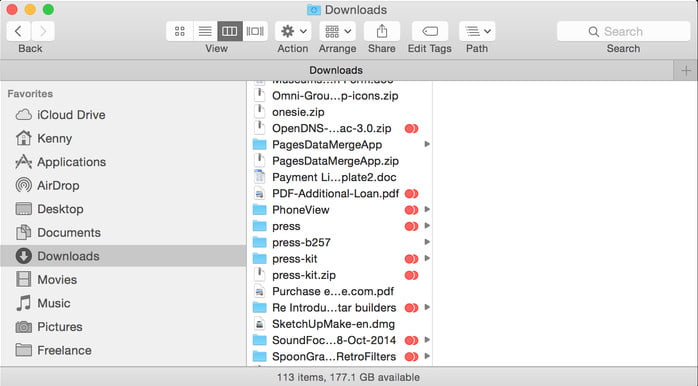 The final option here is to subscribe to Apple Music, Apple's service that for £ 9.99 a month gives you access to its entire music library, so assuming all the music you like is in iTunes, you can delete all your music from your Mac and just stream music from Apple Music instead.
If you later decide not to subscribe anymore, you can always download any tracks purchased from the iTunes Music Store for free before you subscribe, but please note that if you don't have iTunes Match, you won't be able to download the tracks you downloaded yourself. to your iTunes library, so don't throw away those CDs just yet.
Delete files from downloads folder
Your downloads folder also likely contains large files that you no longer need. If you download large PDFs, images, or disk image files and don't cut downloads regularly, there is probably a lot of unnecessary stuff in there. Let's start with disk images. Once you have installed their content, you will no longer need it. If they contain applications, you should install the latest version anyway.
Find out which apps are taking up a lot of space
Once you've figured out the obvious culprits, it's time to dig deeper and find other disk eaters. There are several applications that will show you which files are taking up large chunks of disk space, or allow you to organize files in the Finder based on their size.
GrandPerspective (free) or from the Mac App Store for £ 1.99 and DaisyDisk (£ 9.99 / $ 9.99) give good visual cues, while OmniDiskSweeper (free) uses the standard file hierarchy for display sizes of each file and folder. Other apps like CleanMyMac 2 (£ 34.95) show disk usage as part of their cleaning functions. Parallels Toolbox also has a Disk Cleanup tool and many other useful tools (for £ 15.99 per year).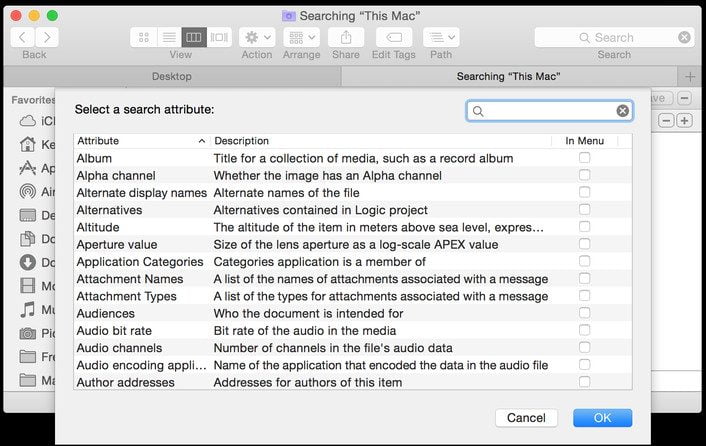 See which files are taking up the most space for free
You can also do it easily without an app.
Open a new Finder window and go to your home folder or press Shift-Cmd-H in Finder.
Press Cmd-F to open a new search box, and in the first drop-down menu under Search (it may say Type) select Other.
In the window that opens, scroll down until you see File Size and check the box next to it. You have selected this as an attribute for your search.
In the next drop-down menu, select "greater than" and change the file size to MB. Now enter a file size, say 100, to display all files in your home folder that are over 100MB in size.
Now you can choose which files to delete or archive on the external drive and quickly free up disk space.
Empty your shopping cart often
If you've chosen not to empty your Trash automatically following Apple's advice above, make sure you empty your Trash more often.
If there are any stubborn files that won't go away, the simplest solution is to use Trash It! (is free).
Remove attachments from mail
How about a folder with attachments in your mail? Think how many emails you will receive with large attachments. What's going on with them? In the main mail folder (~ / Library / Mail), inbox attachments are stored in the inbox.
To make sure files from deleted emails are removed, go to "Delete unedited downloads" in Mail preferences and select "After message is deleted".
The current version of Mail also stores attachments in ~ / Library / Containers / com.apple.mail / Data / Mail Downloads. If you don't need them, they can be removed as well, often saving many hundreds of MB.
Remove duplicate files
Identifying and removing duplicate files is another good way to free up disk space. Gemini costs £ 15.95 on the Mac App Store (in the US you can buy it from the Mac Store for US $ 19.99) and lets you scan your Mac for duplicate files so you can dump one copy.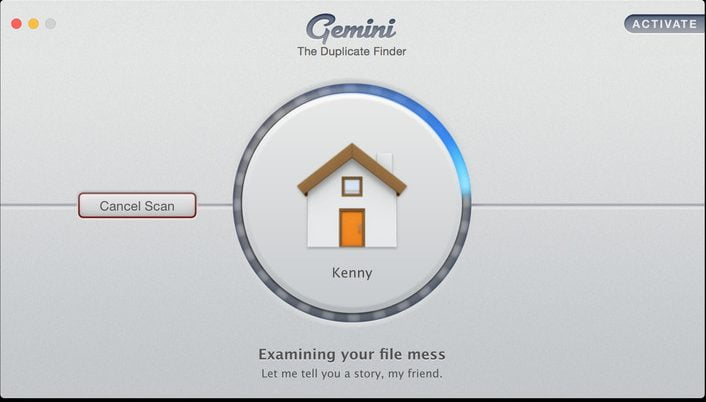 How much precious hard disk space do duplicate files take up? While hard drives may get larger and cheaper, Apple is betting on smaller and faster SSDs. The problem is that they have fewer opportunities, so a higher level of discipline in filing documents is required.
There are a number of reasons why you end up with so many duplicate files. When you add songs to iTunes, if the "Copy files to iTunes Media folder when adding to library" checkbox is checked in preferences, you keep the original. Instant duplication. A couple thousand quality songs and that's it, up to 10 GB of hard drive space is wasted. And that doesn't include duplicates in iTunes.
If you're using Apple Mail, remember that all attachments are in Mail's own download folder. This can be another source of duplication.
More general applications use different strategies and criteria for finding duplicates and give you control over which ones to get rid of. Take a look at Tidy Up ($ 29.99) or Singlemizer (£ 9.99 / $ 9.99 on the Mac App Store).
Close apps running in the background
Quitting apps that have been open for days or more, or even completely restarting your Mac on a regular basis will also help free up disk space.
Applications create temporary files to store data, and the longer they run without quitting, the larger these files become. When you exit the application, the cache files are deleted and the disk space is reclaimed.
Get rid of unwanted Mac apps
It's amazing how quickly you acquire apps, and the space they take up can be terrifying.
Most macOS apps are packages. An application is usually a special folder that looks like a single file that can be double-clicked and contains almost all the files needed to run the application.
Killing an application is easy; get rid of all support files – no. There are preferences (plist) and application support files that can be found in different locations on your Mac. These files, together with the application itself, can take up many gigabytes of hard disk space.
Some major applications include an uninstaller. For example, you will find one in the Additional Tools folder of Microsoft Office. Sometimes the application installer acts as an uninstaller. But the lack of a dedicated uninstaller in macOS is a serious oversight.
Fortunately, there are several third-party options available. AppCleaner (free, download from the Mac App Store here), AppDelete ($ 7.99), and AppZapper ($ 12.95) do the same job, but the fact that they each find different files to delete shows how difficult the deletion process can be!
Remove unnecessary languages ​​you don't need
macOS supports a range of languages ​​and is localized into over 25 languages, each of which is automatically enabled during installation. Go to System Preferences> Language & Region; here languages ​​can be arranged in a preferred order, making it easier to switch between them.
Many major applications also support multiple languages, using the order from Language and Text to select one if the application does not support your primary language. The problem is, if you only want to use one or two languages, macOS and many of your applications are bloated by everyone else.
If you want to remove additional language files that you know you don't need, go to the Resources folder and look for folders that end in .lproj. Each of these folders will include a language file. You should be able to delete these folders without any problems.
Remove unwanted code
Getting rid of unwanted code is another exercise in saving disk space.
Monolingual allows you to remove certain architectures from macOS along with certain languages. While it can free up huge amounts of hard drive space, it can also make your Mac unbootable if you're not careful. Use with care.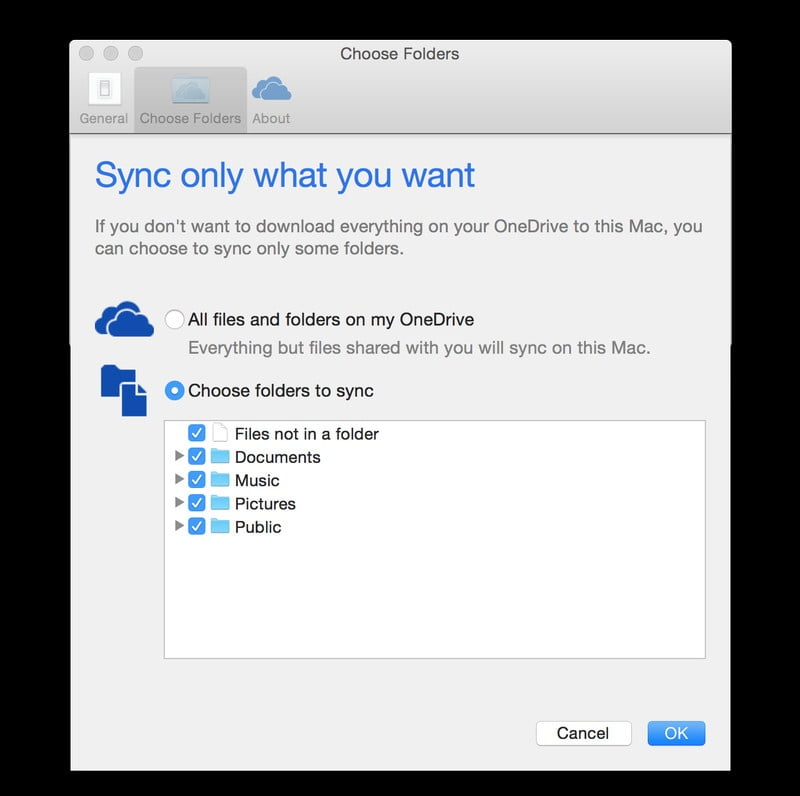 Use cloud storage
We've already discussed iCloud, but there are other cloud storage options as well.
Cloud storage services are great for accessing files remotely, but they can also take up space on your Mac. Both Dropbox and OneDrive, for example, sync whatever you store with your Mac by default – assuming you've installed the Dropbox / OneDrive app.
If you only have 2GB of default storage available for free on Dropbox, that's not a big deal. But Microsoft gives Office 365 subscribers 1TB of free space, so if you use this to store a lot of files, you can very quickly find that your disk space is running out. The same is true if you're paying for more Dropbox storage.
However, in both cases, you can only sync the files and folders you specify.
In Dropbox, click the menu bar item, then click the gear and select Preferences. Click the Account tab, then click Change Settings. Now uncheck the files and folders that you don't want to sync with your Mac.
In OneDrive, click the menu bar item and select Settings. Click Select Folders, then Select Folders, and then Select Folders to Sync. Uncheck folders or click the expansion arrow to access and uncheck individual files.
An alternative would be to subscribe to additional iCloud storage, as we mentioned earlier.
I really need to save everything!
You might think I need space, but I don't want to delete anything! If you are truly a true data protein, here are some simple tips:
Back up any files that you are unlikely to need on a regular basis. Hold down the Ctrl key, click the folder and select a compression option. (Here's more information on how to archive Mac files.) The space saved will depend on the type of file being archived: JPEG and DMG, for example, are unlikely to compress much. Once created, archives can remain either on your Mac or on an external drive.
Use an external drive for data files. This would be especially useful for design, audio or video files.
Transfer the iTunes Music folder to the external drive and then reconnect to it in iTunes. It is quite possible that this is the largest folder on your Mac: we have 25 GB brute-force disk.
Finally, if you do decide to delete files or folders, always back them up first.